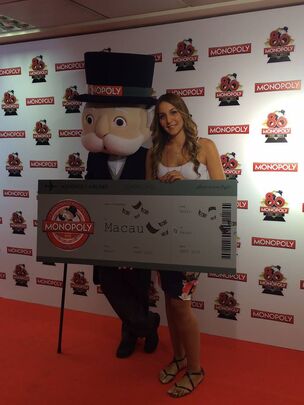 Spain held the 2015 Spain MONOPOLY Championship on May 31, 2015, in Madrid.
María Neus Alonso Gil
, a 29 year old from Valencia, defeated the field of 24 competitors and represented Spain at the
2015 World Championship
in Macau.
[1]
To qualify for the 18 "digital" spots in the national championship, you had to earn points on an online app for the official Monopoly Facebook page for Spain: https://www.facebook.com/MonopolyES/?sk=app_1670785166482040. 18 out of 24 total players were selected from the online app, and the other 6 players included former national champions and former national competitors.
Additional rules for the competition are located here.
On the Spain Facebook page, confirmed digital players for the 2015 Championship included[2]:
They also listed these players as tentative, but unconfirmed as of May 19, 2015:
Eva ML
Mari Palomeque Panizza
Jose Planelles
Yago Audisio
Here is an interview with winner Neus Alonso: http://www.lasprovincias.es/comunitat/201506/07/trucos-para-llegar-campeona-20150607164246.html
MONOPOLY Championships Navigation Table