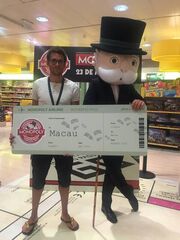 Portugal held a
2015 Portugal Championship
on May 23, 2015, in Lisbon. The competition was won by
João David Ribeiro Pais Ferreira
, who earned a free trip to the
2015 World Championship
in Macau. To qualify for the 14 spots in the 2015 national championship, you had to earn points on an online app for the official Monopoly Facebook page for Portugal: 
https://www.facebook.com/MonopolyPt/app_1437339596560723
.
The Portugal Facebook page[1] listed the following tentative players as having qualified for the championship, but has not been verified as the final list:
Florent Barra
Paulo Renato Soares
Humberto Rodrigues
Ac Rúben Vieira
Joao Matos
Rafael Amoedo
Marta H. A. Silva
Rui Guedelha
Joao Bruno
Tomás Morais
António Santos
Daniel Amoroso Anjos
Cátia Pinheiro
Jorge Silva
Fernando Machado
Nuno Gonçalves
MONOPOLY Championships Navigation Table
Ad blocker interference detected!
Wikia is a free-to-use site that makes money from advertising. We have a modified experience for viewers using ad blockers

Wikia is not accessible if you've made further modifications. Remove the custom ad blocker rule(s) and the page will load as expected.