Ita Hoffman is the 2015 Germany Monopoly Champion and competed at the 2015 World Championship in Macau in September 2015.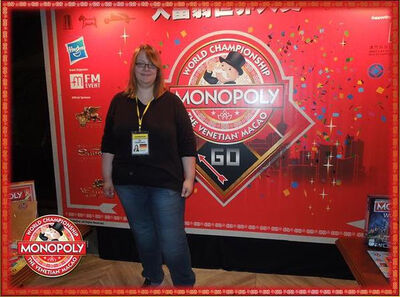 Ita's bio from the 2015 World Championship Press Kit:
Ita (26 years old) loves to play MONOPOLY with family and friends and has been playing MONOPOLY for more than 10 years. Playing MONOPOLY with family and friends is her favorite aspect of MONOPOLY throughout the years. She owns four MONOPOLY game boards: one of which is almost twenty years old, an Assassins Creed-Edition, an 80th Anniversary Edition, and even one chocolate edition. Yet, her favorite version is the classic board. Ita's strategy to win she says, is a mixture of MONOPOLY experience and knowledge, a bit of luck and a lot of fun.
MONOPOLY Championships Navigation Table