Guiobanhni "Guio" Encinosa Ramírez was born in a small town called Orocué from Casanare a beautiful region in Colombia. He currently lives in Bogotá. He received his degree in teaching and languages last year (2014). Now, he is a French teacher in a private school. He speaks Spanish, English, French and a little Portuguese.
He is the 2015 Colombia Champion and competed at the 2015 World Championship in Macau in September 2015.  At the national contest, four weekly winners were then selected from a Championship completely online.  He defeated more than 2000 competitors over a month-long competition.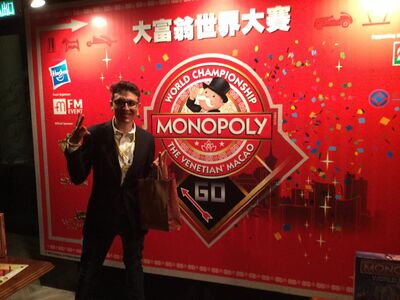 Guio's bio from the 2015 World Championship Press Kit:
Guiobanhni (27 years old) has been playing MONOPOLY since he was 15 years old. He has owned many boards throughout the years, but currently he only owns one board. His favorite version of the MONOPOLY game board is the 80th Anniversary Edition because it includes unique elements of every Monopoly edition which has become collectable. Guiobanhni has no set strategy in plan, but hopes to buy as many properties as possible and build houses and hotels. His motto is 50% strategy and luck and 50% having fun—which is the most important part of MONOPOLY for him.
MONOPOLY Championships Navigation Table