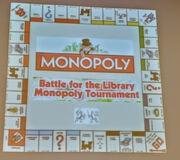 The 
Battle for the Library Monopoly Tournament
is a local fundraiser tournament to benefit the Etiwanda School District of Etiwanda,
CA
. The tournament was held for the 6th time in January 2018.
[1]
It is typically the first tournament of the year in the
CA Monopoly Circuit
, and is held at the Grapeland Elementary School. The tournament is organized by Amber & Doug Claflin, and judged by Doug Claflin.
The tournament consists of two, 90-minute preliminary rounds, followed by a 90-minute 4-5 player final, with both senior and youth divisions. The senior division is primarily for adults 18 and older, but youth can opt to "play up" in the senior division if they choose to. Youth division is defined as open to kids in Grades 5-12.
Starting with the 2017 tournament, each preliminary round, players earned points equivalent to the percentage of assets they held at their table at the end of the game or at the end of the 90 minute period, whichever came first. A player who bankrupted their whole table gets 100 points, a player who is bankrupted gets 0 points.
After both preliminary rounds, the four players with the highest points advance to a final round, where they will compete against the defending champion (if present). The combined asset total for both preliminary rounds is used as a tiebreaker for equal numbers of points. This final match is 90-minutes long, and prizes are awarded to the finalists.
Prior to the 2017 tournament, they instead used combined asset total for both preliminary rounds as the determinant of which players would advance to the final.
MONOPOLY Championships Navigation Table