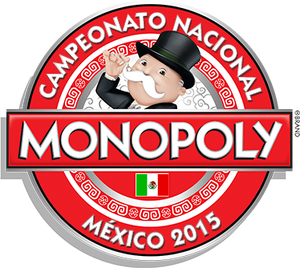 Mexico
held a 2015 Mexico MONOPOLY Championship on May 29th, 2015 at Casino Caliente Tecamachalco Mexico City.
Jan Carlo Robles Flores
beat the field of 16, but could not attend the
2015 World Championship
, so
Mariano Naoto Kairiku González
was sent as Mexico's representative in his place.
To qualify for the 16 spots in the national championship, players had to earn points on an online app located at http://www.campeonatomonopoly2015.com/mx/ between April 20th and May 12th.
At the national championship, they played a 1-hour preliminary round, where the two highest scores at each table advanced to the 8-player semifinal round lasting 1 hour. The two highest scores for each semi-final game then played in the final round, lasting 1 hour.
The Mexico champion received a trip to Macau for the 2015 World Championship. First through third place will also win a prize pack of Monopoly games.
Players competing in 2015 include Mariona Suinaga, the 2004 Mexico champion.
Full rules for Mexico located here: http://www.campeonatomonopoly2015.com/mx/terminos-y-condiciones.html
MONOPOLY Championships Navigation Table