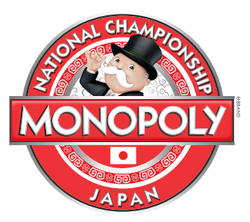 The 
2015 Japan Championship
 was held at Harukasu Abeno, Osaka on June 13, 2015 as part of their annual national convention. Then the next day, the national winners since 2009 competed in the 
2015 Japan Grand Championship
 to determine who would represent Japan at the
2015 World Championship
.
[1]
Tsutomu Doita
won the 2015 Grand Championship on June 14th.
[2]
These are some of the people who competed at the 2015 Japan Grand Championship:[3]

See below for a table of all 2015 Japan regionals according to Monopoly-championship.jp[4]
Additional details of how one qualified for Japan's tournaments can be found on their webpage: http://monopoly-championship.jp/
Cite error: <ref> tags exist, but no <references/> tag was found
Ad blocker interference detected!
Wikia is a free-to-use site that makes money from advertising. We have a modified experience for viewers using ad blockers

Wikia is not accessible if you've made further modifications. Remove the custom ad blocker rule(s) and the page will load as expected.